Get moving on a GSX-R1000R. With 0% finance.
The R model GSX-R is the King of the track. So easy to ride it flatters all abilities. And till the end of March you can have it with super cheap 0% finance with as little as £1000 deposit.
Buildbase GSX-R1000R is on our own special 36 month 0% deal with £3000 deposit. HP only.
Regular bike can have 0% on PCP as well as HP.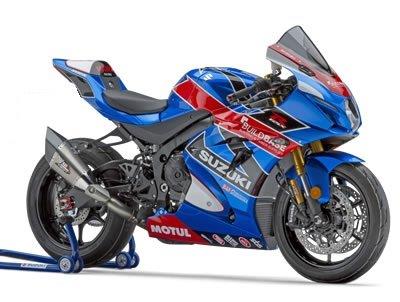 Buildbase GSX-R1000R special limited edition.
Eg. cash price £19995, deposit £3000, balance £16995
36 monthly payments of £472.08, TAP £19995
APR 0%
GSX-R1000R. Now with 36 months 0% finance on PCP or HP
Eg. cash price £14995, deposit £1000, balance £13995
36 monthly payments of £144.78, final payment of £8783
TAP £14995, APR 0%
GSX-R125. Pre-reg bargain saving £279
Our price just £3995, deposit £300, balance £3695
36 monthly payments of £102.64, TAP £3995, APR 0%
Available on these models
GSX-R1000R
GSX-R125